Keyhole bunion surgery provides patients with a faster recovery(1-9).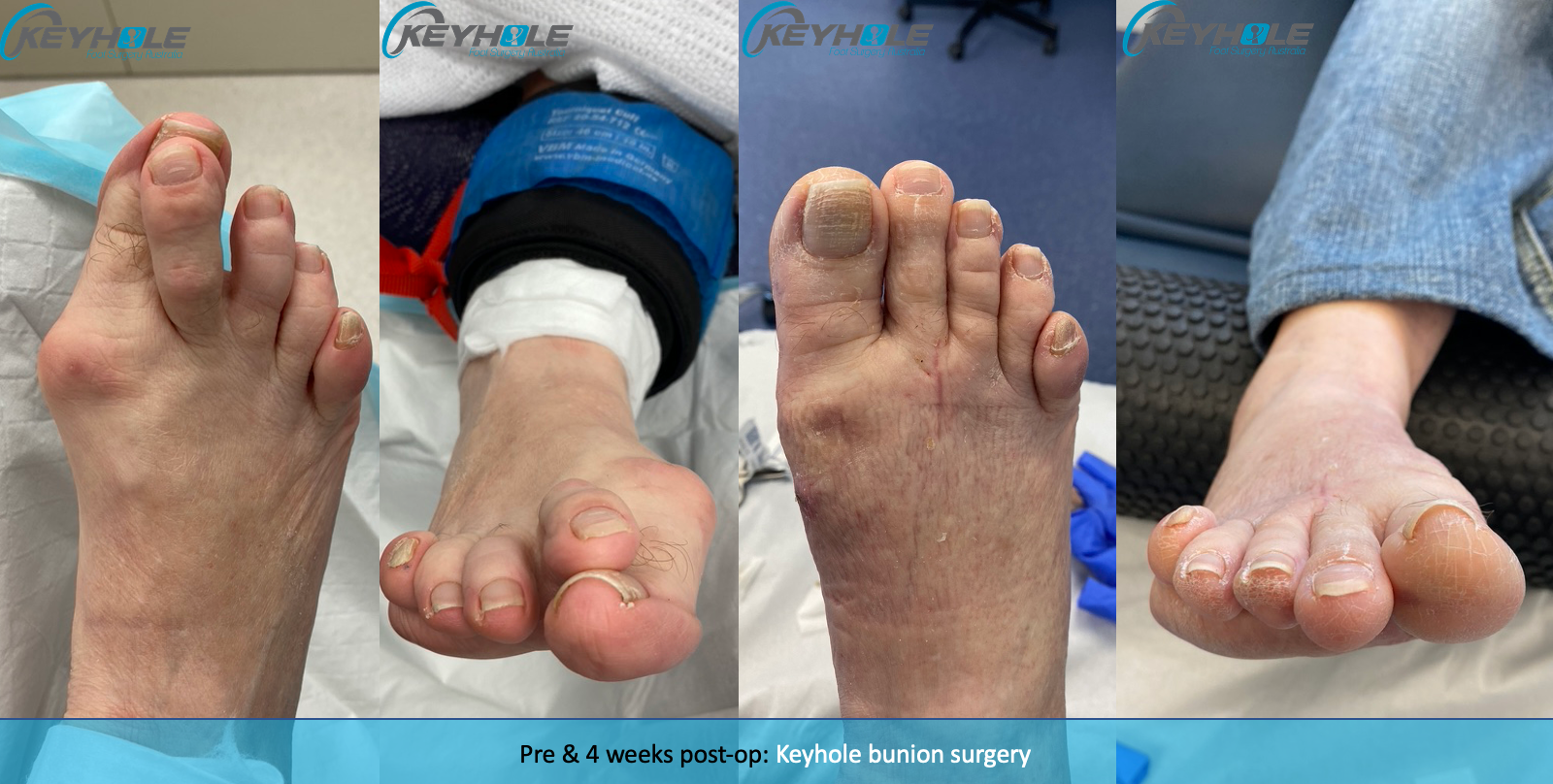 What is keyhole bunion surgery?
Minimally invasive bunion surgery (aka keyhole bunion surgery) is most akin to laparoscopic surgery. The highly specialised procedure requires three 2mm incisions to be made around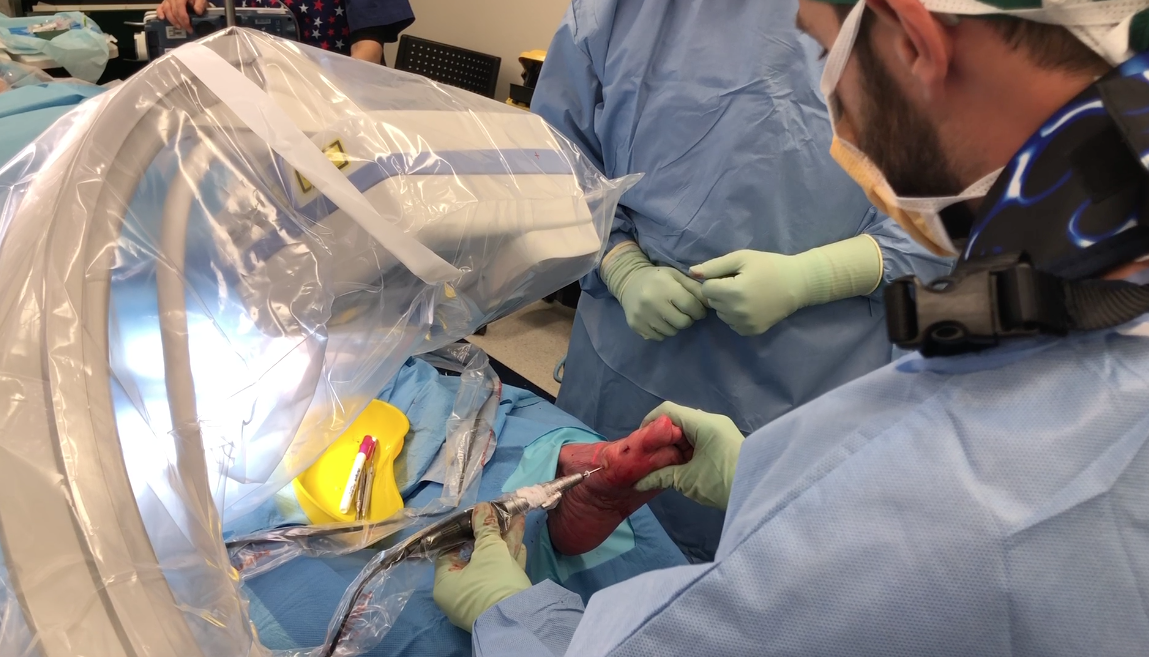 the big toe joint rather than one long incision over the top of the big toe joint as is the case in traditional surgery. The surgical instruments are then inserted through the small portals into the bone and live x-ray guidance is used to carry out the operation.
Keyhole surgery Vs Traditional 'open' bunion surgery(1-9)
The primary advantage of keyhole bunion surgery is that there is minimal disruption to the soft-tissues around the big toe joint, and therefore healing and recovery for patients is significantly faster. Patients who undergo keyhole bunion surgery generally have minimal pain after surgery and are able to weightbear fully on their operated foot immediately after surgery. A post-operative sandal is only required for the first 2 weeks after the operation and then transition into a sneaker is generally ok at 2-weeks post-surgery.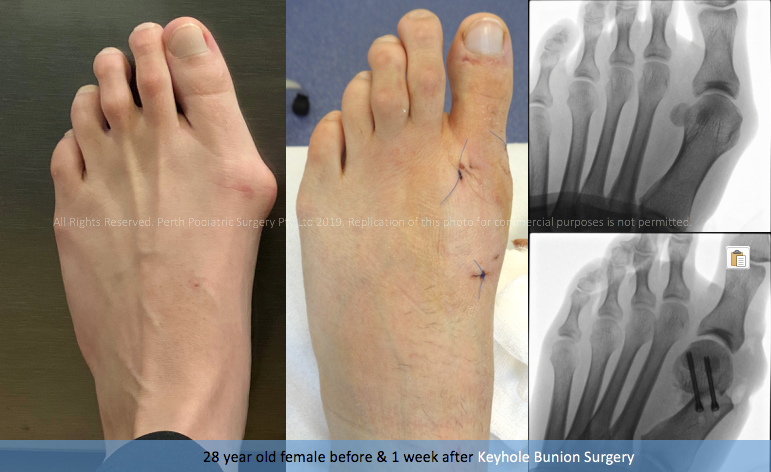 Above: Keyhole Bunion Surgery (*note only 3 small stitches)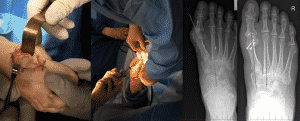 Above: Traditional 'Open' Bunion Surgery (*note significant tissue exposure required)
The table below summarises the key differences between the keyhole bunion surgery procedure we offer and the traditional 'open' bunion surgery procedure.(1-9)
Key Differences
Keyhole surgery
Open Surgery
Soft-tissue incision
Minimal disruption to soft-tissues. Three 2mm incisions only are made around the big toe joint.
A 10cm-15cm incision is made through the skin and joint capsule to access the bone.
Post-operative swelling
Patients should expect mild swelling around the joint for 2-3 months post-surgery.
Patients may experience moderate swelling of their whole foot for 3-6 months post-surgery. A degree of swelling may persist for up to one year after the operation.
Bruising
Similar
Similar
Stiffness in joint post-surgery
It is not common to experience significant stiffness in the joint post-surgery.
100% risk of permanent stiffness or restriction in movement in joint after surgery.
Rehabilitation & return to exercise
Patients commence joint range of motion exercises at 1 week post-surgery.

At 2 weeks post-surgery patients can put full load through their big toe joint and transition into a sneaker.

Patients can generally recommence low impact exercise at 2-3 weeks post-surgery. High impact exercise such as running is closer to 2 months.

Rehabilitation is often delayed until 4 weeks post-surgery due to the risk of disrupting the surgical scar and soft-tissues around the joint.

At 4 weeks patients can generally begin range of motion exercises for the big toe joint, and can commence loading the joint at 6-8 weeks.

Low impact exercise can commence at 4-6 weeks post-op.

Driving
Right foot – ok from 2 weeks post-surgery

Left foot – ok from 2-3 days post-surgery

Right foot – ok from 4 weeks post-surgery

Left foot – ok from 2 weeks post-surgery
| | | |
| --- | --- | --- |
| Pain after surgery | Patients can expect mild to moderate pain for the first 3-4 days after surgery and may require panadeine forte. This generally tapers off after the first week and usually panadol only is required after this time. | Moderate to severe pain can occur and may persist for 4-6 weeks post-surgery. Strong pain killers are often required at times. |
When is the right time to consider bunion surgery?
Many patients we see for consultation have previously received poor advice that they should delay specialist surgical treatment for their foot problem until they are no longer able to bear the pain, or have developed severe deformity. This is absolutely contrary to best practice guidelines which supports surgical intervention at an early stage for bunions.
We know from extensive epidemiological research on bunions that the deformity will worsen over time regardless of whether or not non-surgical treatment (such as orthotics) is undertaken. As the toe begins to sublux and dislocate off the joint surface, the risk of developing permanent joint damage and osteoarthritis is almost 100%.
The images below demonstrates progression of a bunion deformity over time.

Benefits of early surgery include: 
Better prognosis and outcome from the procedure;
Keyhole procedures are often possible, avoiding major surgery, faster healing time, and fewer risks;
Less risk of developing secondary problems relating to the bunion such as hammertoes, corns and calluses, or morton's neuroma.
Am I a suitable candidate for keyhole bunion surgery?
Many patients, even with severe bunion deformities can benefit from our minimally invasive surgery technique. Our specialist Dr Andrew Knox has performed over 350 keyhole based bunion surgeries since introducing this novel technique to Western Australia in 2018. We have been able to consistently achieve excellent deformity correction and cosmetic appearances, even in cases of severe bunion deformities such as the cases demonstrated below.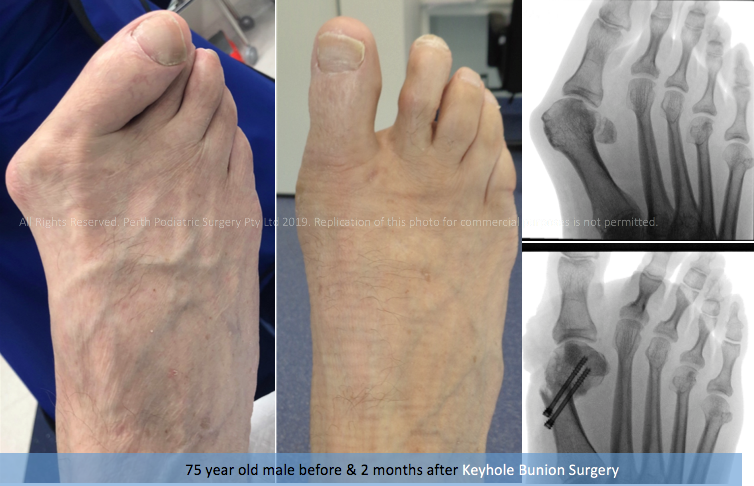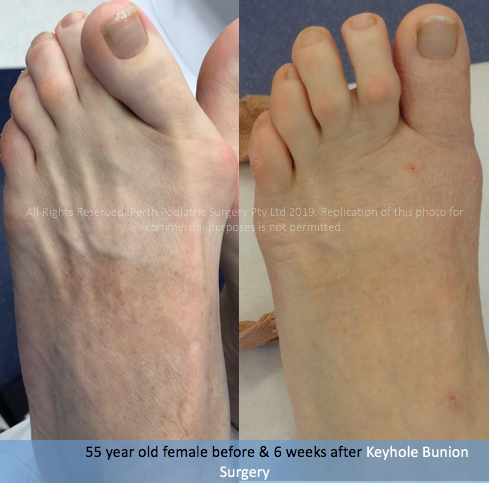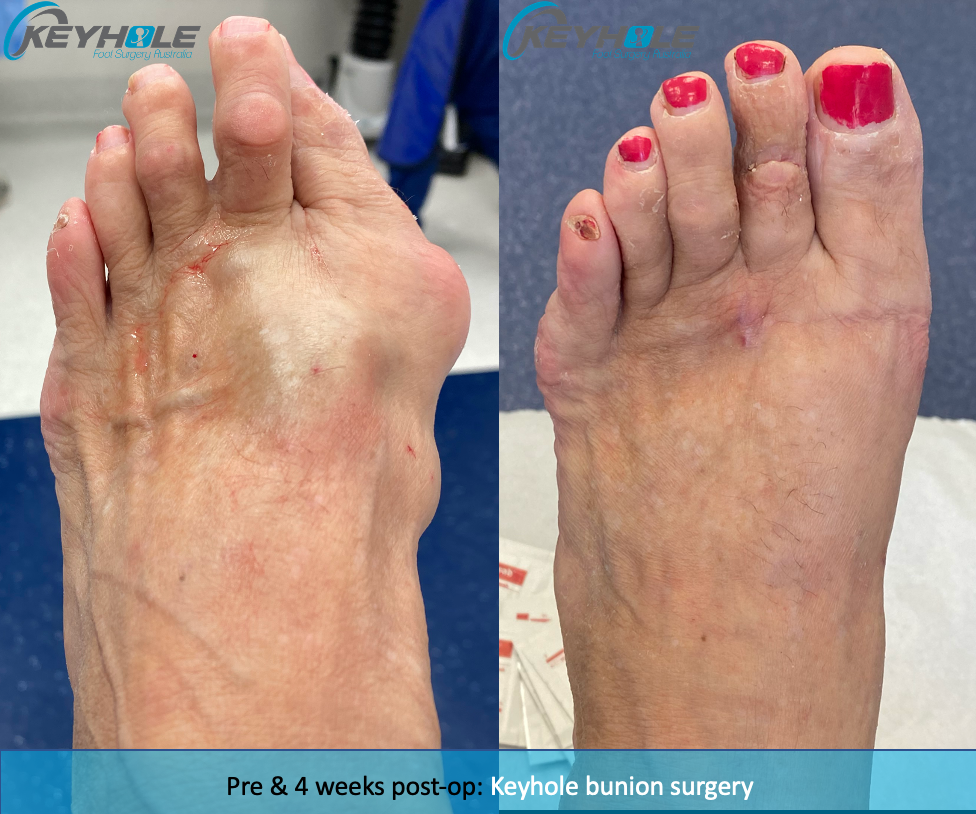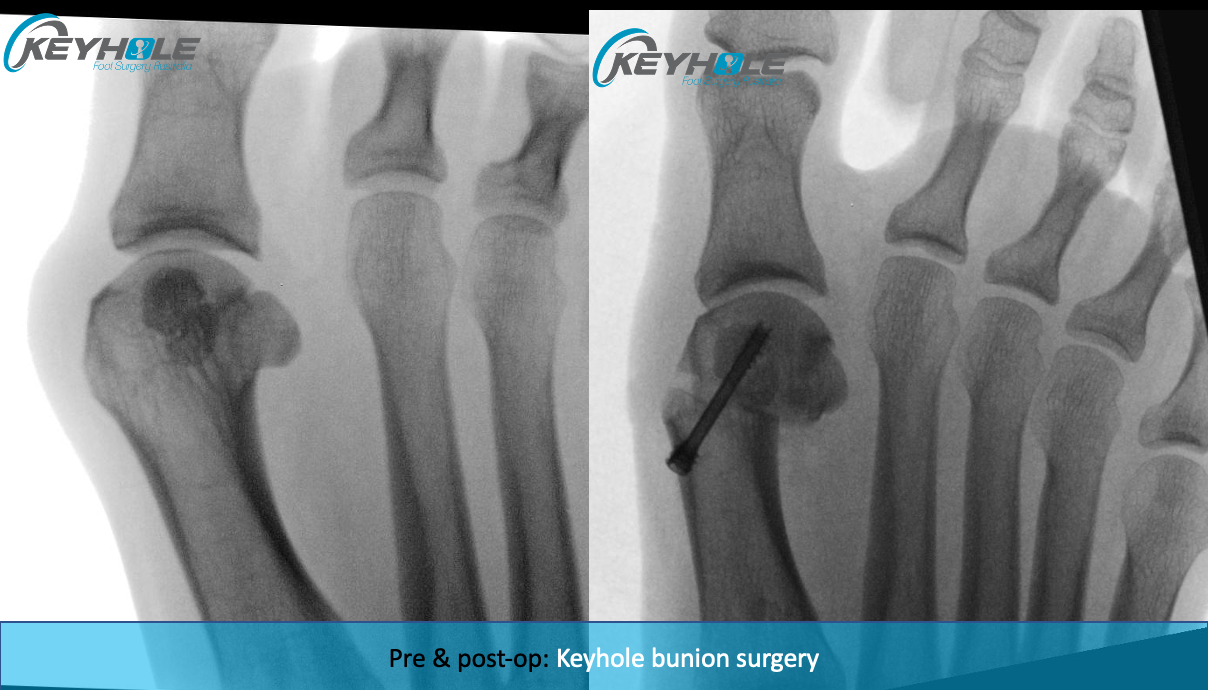 The next step..
If you are thinking about treatment options for your bunion, we recommend booking an appointment to see our specialist for further assessment and discuss whether or not this procedure is appropriate for you. Bookings can be made online without referral via the HealthEngine Plug-in our our Appointments Page. Alternately, phone (08) 9383 3851 during normal business hours to speak to our friendly admin staff.
References & Further Reading:
Please note:
This website is intended for general information purposes only. Any surgical or invasive procedure carries risks. Before proceeding, you should seek a second opinion from an appropriately qualified health practitioner. For more information on minimally invasive bunion surgery in Perth, follow the link to make an appointment to see our specialist podiatric surgeon Dr. Andrew Knox.