Background to Keyhole Foot Surgery
Keyhole foot surgery (aka minimally invasive foot surgery) originated in North America in the 1970s and is now practiced widely in parts of the USA, Canada, Europe and Brazil. Historically, only simple surgical procedures were performed through a keyhole approac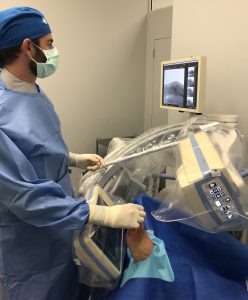 h, but modern advancements in surgical equipment and techniques has allowed for a significantly expanded scope of procedures to be possible including removal of bone spurs, cutting of bone (osteotomy) and use of internal fixation. In Australia, keyhole bunion surgery has gained popularity on the east coast in recent years due to its significantly reduced downtime as compared with traditional open bunion surgery. After undergoing specialist training in the USA in 2017 with the Academy of Ambulatory Foot and Ankle Surgeons, Dr Andrew Knox was the first podiatric surgeon to offer keyhole foot surgery procedures in Western Australia including keyhole bunion surgery, keyhole hammertoe surgery, and hyprocure flatfoot correction.
How does Keyhole Surgery Differ to Traditional Open Surgery?
Open surgery traditionally requires long incisions to be made through the skin and soft-tissues in order to visualise the bone which is being operated on. In contrast, keyhole foot surgery involves several small (1-2mm) incisions which are made at specific landmarks to allow for surgical burrs to be introduced through the skin and down to bone without interrupting the soft-tissues. The analogy is very similar to laparoscopic surgery. Once the burrs are in place, a live x-ray machine (fluoroscopy) is used by the surgeon to visualise the surgical burrs and as the surgical procedure is carried out.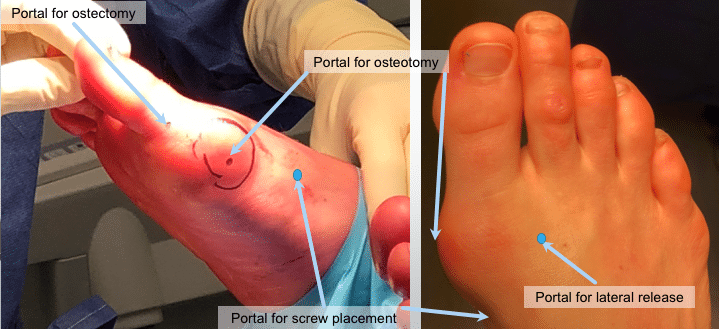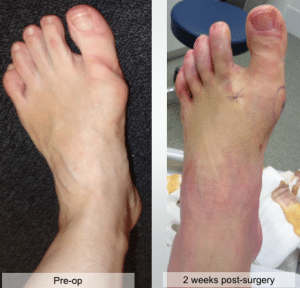 What are the Benefits Of Keyhole Foot Surgery?
There are a number of benefits to keyhole foot surgery including:
Significantly less swelling postoperatively;
Immediate weight-bearing;
Virtually no scarring
Reduced downtime;
Faster return to normal activities.
Keyhole Foot Surgery Procedures We Perform
Tailor Bunion Correction
Exostoses (Bony Bumps)
Accessory Bones / Accessory Ossicles
Morton's Neuroma
Tendon Lengthening & Tendon Transfer

Is Keyhole Foot Surgery An Option For My Foot Problem?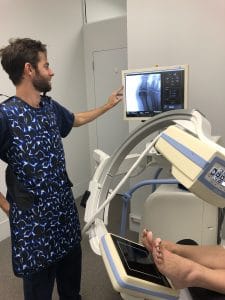 A wide variety of foot problems can be addressed through keyhole approaches, but only surgeons who are experienced in keyhole surgery should be consulted for advice on whether or not this is appropriate. At Perth Podiatric Surgery we pride ourselves on providing honest and comprehensive advice, regardless of your foot problem. We recommend booking a consultation with our specialist in the first instance to discuss your problem, and they can determine whether or not keyhole surgery is the right option for you. If you would like further information regarding any of the content listed on this page, please visit our "Ask The Surgeon Page" for a quick response from our team.