Keyhole foot surgery originated in North America over 40 years ago. There are now over 2000 surgeons worldwide specialising in keyhole techniques. Keyhole foot procedures are becoming more widely used and sought after by patients wishing to reduce recovery time and discomfort from traditional procedures.
Keyhole foot surgery involves treatment through a few very small incisions, using specially designed instruments that allow for less soft tissue injury compared to traditional open surgery. Both soft tissue and bony procedures such as bunion and hammertoe correction can be achieved through keyhole incision with intraoperative x-ray being used to visualise correction of the deformity.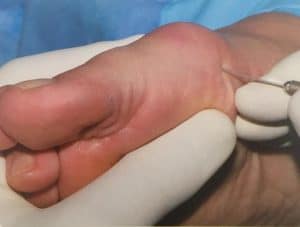 Benefits of keyhole foot surgery over traditional techniques
There are a number of benefits to keyhole foot surgery including:
Significantly less swelling postoperatively
Immediate weight-bearing
Virtually no scarring
Reduced downtime, faster return to normal activities
Dr Andrew Knox's experience in Keyhole Foot Surgery
Keyhole techniques are most widely used in the United States of America and Dr Andrew Knox is one of few foot surgeons in Australia performing keyhole surgery for a number of foot conditions. He has undergone specialist minimally invasive training In the United States with the Academy of Ambulatory Foot and Ankle Surgery. The Academy provides education and training using the latest research and up to date techniques in keyhole procedures. More information regarding the Academy of Ambulatory Foot and Ankle Surgery can be found at their website www.aafas.org.