Ingrown toenails are a common complaint and can affect people of any age, but are most common in adolescents. The problem initially occurs from irritation of a sharp or curved nail growing into the skin, which becomes inflamed and painful and may develop infection if left untreated. Treatment of acute ingrown toenails does not usually involve surgery, and they can be managed by cutting the nail back to relieve pressure on the skin, and local wound care.
If infection is present, our specialists will prescribe a course of oral antibiotics also to treat this. A high portion of patients unfortunately tend to experience recurrent ingrown toenails which may require surgical intervention. There are two common procedures which are performed by the specialists at our practice, including partial nail avulsion and phenolisation, and sharps nail wedge resection. These procedures can be performed on-site at our clinic in Cottesloe under local anaesthesia, or can be performed within hospital under general anaesthesia.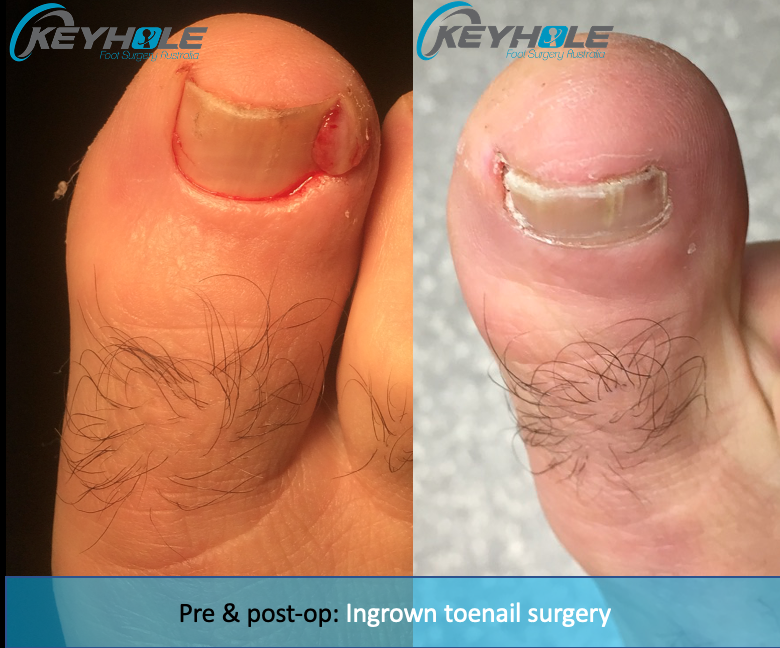 The aftercare from both procedures is relatively straightforward and it is rare to have recurrence after surgery. For a detailed overview about how both techniques are performed, please refer https://www.racgp.org.au/afp/2015/march/ingrown-toenails-the-role-of-the-gp/  which contains an original publication by Dr Andrew Knox, educating Australian GPs on these techniques.
Please note:
This website is intended for general information purposes only. Any surgical or invasive procedure carries risks. Before proceeding, you should seek a second opinion from an appropriately qualified health practitioner. For more information, follow the link to make an appointment to see our specialist podiatric surgeons Dr. Andrew Knox & Dr Burke Hugo.