Custom Made Orthotics Perth
Orthotics are therapeutic devices which are prescribed by Perth podiatrists in order to correct abnormal foot posture, provide mechanical control to the foot, or alleviate pressure from bony prominences. Custom Made Orthotics in Perth are made from a semi-rigid plastic material and are designed to be worn in shoes during normal daily activities including standing, walking, and running. Custom Made Orthotics in Perth are individually tailored to suit the needs of the patient and can be adjusted accordingly from time-to-time as required.

WHO WOULD BENEFIT FROM Orthotics?
Orthotics can be used by everyone from athletes to the elderly, and are prescribed for a variety of different foot and lower-limb problems, some of which include:
• Ankle instability and sprains
• Arthritis
• High arches
• In-toeing
• Knee, hip and back pain
• Plantar fasciitis
• Osgood-Schlatter disease
• Shin splints
For further information on each of these conditions please visit our Procedures page.
How Are Custom Orthotics in Perth Made?
Perth Podiatric Surgery is equipped with the latest state-of-the art 3D laser scanning orthotic technology which allows for a more accurate and reproducible custom made orthotic to be designed. A biomechanical assessment involving measurements of the feet and ankle is firstly performed by our specialist in order to help guide the orthotic prescription and then images of both feet are captured using the 3D orthotic laser scanner. The orthotic scans are sent to a local orthotic laboratory where the custom made orthotics are manufactured and take approximately 1 week to return for patient issue.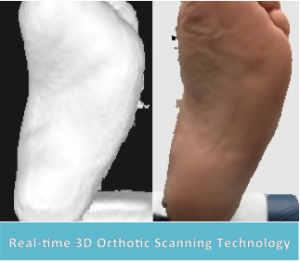 Cost of Custom Made Orthotics in Perth
Perth Podiatric Surgery charges and relevant item numbers for custom-made orthotics are outlined below. Costs relating to custom orthotics are billed over several consultations and includes the following services:
Consultation with Biomechanical Assessment and Orthotic Scanning
Manufacture of the Custom Made Orthotics
Progress review appointments relating to the orthotics for up to 3 months.
All private health insurers provide rebates on custom made orthotics, and generally cover about 50% of costs for the manufacture of the devices. Patient's are therefore only required to pay 'the gap' on their orthotics, as most of the cost is rebatable on-the-spot via HICAPS.
The below item numbers can be provided to your health fund in order to determine what rebate you will be eligible to receive.
HBF Members:
F014 Subsequent Appointment – $100.00
F111 Muscle Testing – $60.00
F114 Range of Motion Study – $60.00
F117 Gait Analysis – $60.00
F221 Custom Orthotic (Single) – $330.00
All Other Health Funds:
F014 Subsequent Appointment – $100.00
F118 Biomechanical Assessment – $120.00
F303 3D Laser Orthotic Scan – $60.00
F221 Custom Orthotic (Single) – $330.00
Read our latest blog here for more information on how orthotics might help your foot problem, or book an appointment to see our podiatrist.